The Schmit Difference: Why Car Owners Keep Coming Back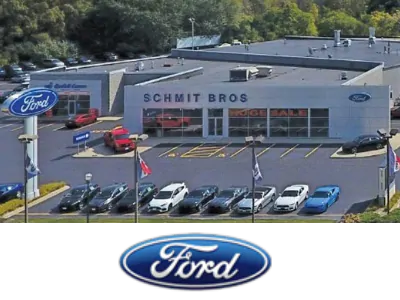 There are car dealerships and there is Schmit Bros. Auto. Our Ford dealership in Saukville doesn't merely aim for customer satisfaction, it aims for customer delight. It's not by chance that car owners keep coming back to Schmit Bros.
As the oldest Ford dealership in Wisconsin, Schmit Bros. Auto provides the finest automotive products and solutions. The Schmit team firmly believes that stellar service should be affordable.
That's why they address the needs of every customer with the most personalized attention – regardless of their budget.
Client Testimonial
"I bought a 2016 Chevy Malibu a couple of months ago from Schmit Bros. and they were great! They worked really hard to find me the specific car I wanted and in the price range I wanted.
The finance team as well as the dealership's manager really work with me and did a wonderful job! If I could I would give them more than 5 stars. They are a car dealership that I trust!" – Jennifer
Exceeding Customer Expectations
Schmit Bros. Auto currently serves our wonderful customers in Port Washington, Saukville, Milwaukee, Grafton, West Bend, Mequon, Belgium, Sheboygan, Oostburg, Cedarburg, Fredonia, and Random Lake.
The teams of sales managers, service technicians, and financing experts at Schmit operate with a single-minded mission: to not only meet but also exceed the customer's expectations with the utmost care and attention to detail.
Interested in buying a new Ford EcoSport, Explorer, Escape, Edge, Mustang, Transit, F-150, Fusion, Focus, Fiesta or Taurus (Or, maybe a quality, reliable pre-owned vehicle )? Schmit Bros. Auto has it all. Our highly dedicated team would love to tell you more about your best car options in our huge inventory.
Customers Love Schmit Bros. Auto
JC Penney once said that every great business is built on friendship. Team Schmit agrees! At Schmit Bros. Auto, every team member understands that providing the right product choices to match the customer's needs alone is simply not enough.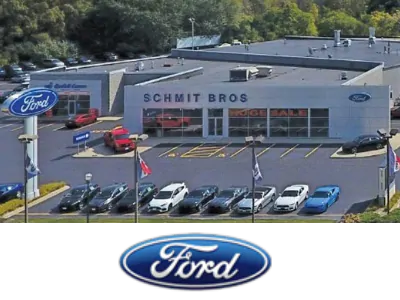 We will back it up with exceptional service every time you walk in any one of our dealerships, be it to buy your first car or simply get the tires replaced. Apart from a vast selection of vehicles, both new and used, here are some more reasons why Schmit Bros. commands tremendous customer loyalty.
Five-Star Service Lounge
You can expect complimentary gourmet coffee, snacks, and Wi-Fi in our newly renovated lounge. You can even enjoy the HD TV in there while you wait for your service appointment to be completed.
Schmit Bros. Auto offers complimentary shuttle service that runs every 30 minutes to help you schedule pickups within 20 miles from our dealership.
Think your service may last longer than two hours? Don't worry! You can have one of our complimentary loaner cars for the day!
Client Testimonial
"I had the pleasure of dealing with Schmit Bros Ford sales department last month. I have never enjoyed shopping for a car as I have with this dealership. Every single person at this store deserves recognition.
Both the sales managers were great. This dealer is a top class act!!! I give it 100%! I will recommend all my family and friends to this dealership. Thank you Schmit Bros sales team." – John
An Array of Financing Options
Are you ready to drive home your next car from Schmit? The auto finance team at Schmit Bros. Auto is standing by with a wide range of financing solutions to accommodate your budget.
After you've completed a few test drives and narrowed down your choices, our finance department is ready to swing into action. The experienced finance experts at Schmit Bros. Auto would love getting to know you and your budget so that you can find the best loan or lease plan that's tailor-made for you.
Auto Service and Repair
To put it simply – customer service is the heart of the Schmit brand. And our excellent service doesn't end with the sale. The experienced professionals at Schmit Bros. Auto will make sure that you have a positive and thoroughly convenient ownership experience by offering you onsite auto service and repair deals. Or if you'd rather perform your own repair and maintenance, we also have a huge collection of auto parts to choose from.
Choose Schmit Bros. Auto for Your Next Car
Buying a vehicle is one of the most valuable investments you'll make, so naturally, you have high expectations. The experienced team at Schmit Bros. Auto understands and appreciates your needs and will go out of the way to make sure they are met beyond your best expectations.
Come see what customers have known for over 100 years – you'll drive away a happy customer when
Schmit Happens
! Call 877-751-7060 to learn more.