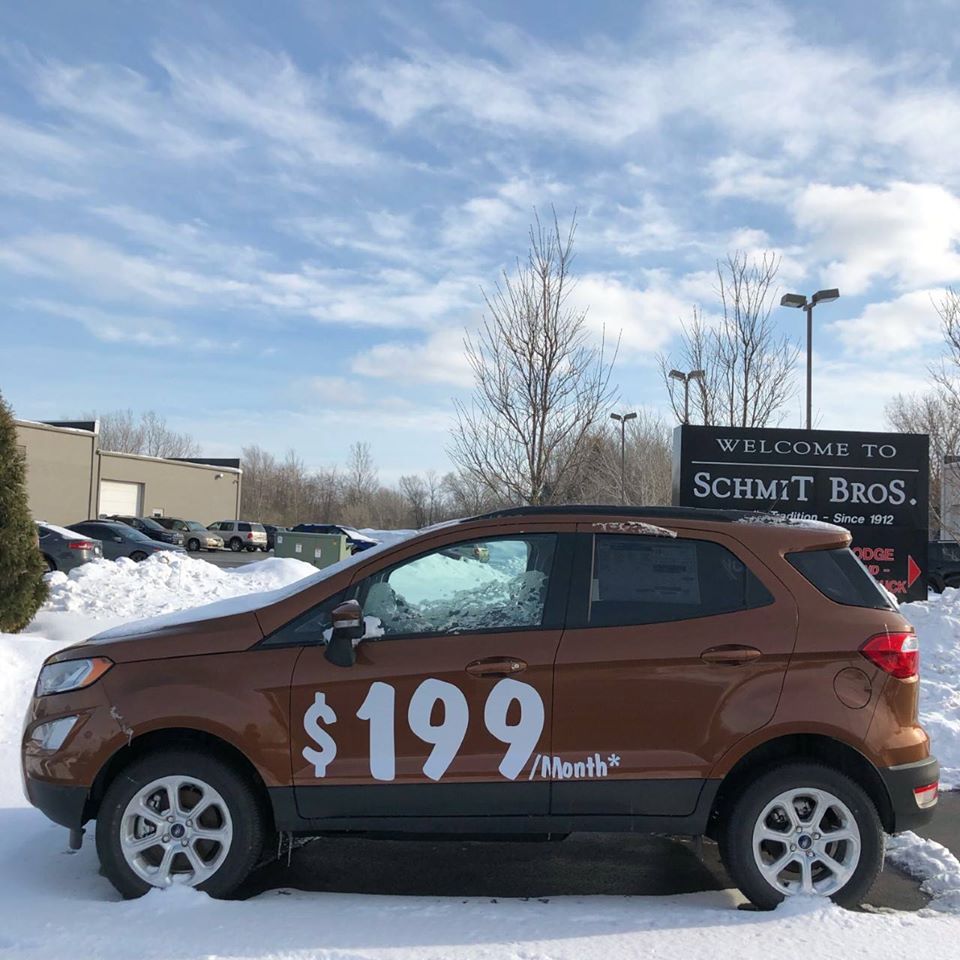 Thinking of buying used? Schmit Bros has you covered. A lot of people have questions that they ask if they're thinking of buying a used car. Here are our most frequently asked questions and the best questions to ask when buying a used car.
Why buy from a dealership?
-The reason to buy a used car from a dealership that also sells new cars like Schmit Bros is easy. When someone wants to buy a new car from us, they trade in their old one. We have high standards when it comes to safety, mileage, body work, and mechanics. If something doesn't pass our high standards, then we either wholesale it or send it to auction. It's that simple. We have 112 point safety inspection on our vehicles that includes brakes and vital fluids, among many other things. We stand firm behind our work as Wisconsin's oldest car dealership and understand the importance of your vehicle and the value behind it.
2) Tires?
-Always check the tires on any used vehicle you buy. Tires are one of the most replaceable things, but can also be one of the most costly. We have a special reconditioning process for the tires on our used vehicles, and if they don't meet our high standards, we just replace them all together.
3) Rust?
-Always check for not only tell-tale signs of rust , but for rust itself. We do not sell cars with rust or signs of possible rust on our lot because we know the expense behind fixing it. We want you to have the best used car buying experience possible.
4) Where did it come from?
-A really important question to ask because location is everything. You don't have to worry about a car on our lot that a little old lady drove to church on Sundays from Port Washington or a car that came from Arizona. Elements can effect your car and to save you the hassle, we only sell the best used cars from the best places. We also avoid flood zone vehicles and don't deal in gray market cars such as salvage, lemon law buybacks, and severe car accidents.
5) Clean History Report?
-It is important to know if you car has ever been in an accident or had a recall. Thankfully, we have access to reports and information on previous car owners to help aide you in your used car buying experience.
6) Discounts?
-Out with the old to make room for the new, right? We often have discounts and sales on our used cars to make way for newer models. We use a market based pricing system that assess that you will not pay more for a used vehicle than you should!
7) Fuel economy?
-It is good to know how much your car costs to fill when it comes to gasoline prices. Always ask mileage per gallon for freeway and around town. A good source for fuel economy is www.fueleconomy.gov.
8) Seating capacity?
-If you have a bigger family or a large business to run, this question is incredibly important. If you have multiple kids with friends you have to run back and forth to soccer practice or a vehicle that needs to fit all of your equipment, it is dire you know if you have enough room for everything that you need. Your precious cargo is important to us, so we only sell the best of the best when it comes to used cars.
Buying a used car can be somewhat overwhelming, but we are here to help you at Schmit Bros. We make your car buying experience as stress free as possible with the best product specialists in the area that go through weeks of training to help you get the car you need for yourself, your family, your business, and your lifestyle.
If you're in the market for a used car, we'd be happy to help. If there's a specific make and model you're looking for, we have over 700 cars in our network and are sure to find you what you're looking for. If your old car isn't cutting it and you don't want to buy new, we're happy to step in and help; our buyers are always looking for clean local trades so if you want to sell a car to us, we would love to hear from you! Because Good Things Happen When Schmit Happens!!!