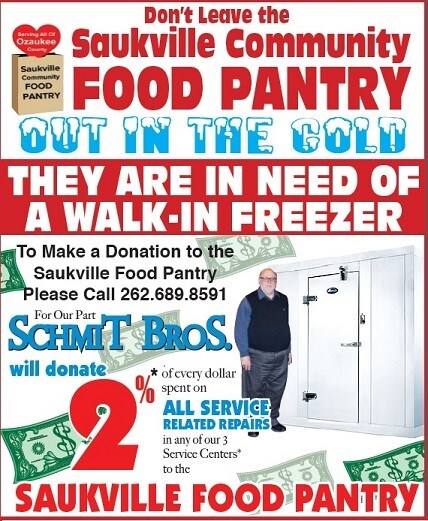 Mark Gierach is in charge of our local food pantry here in Saukville for all of Ozaukee County and over the years, the food, donations, meals, and school supplies (just to name a few things) have positively effected thousands of people in our local community. The doors opened in January of 2012 after a small hiatus; right after the housing market crashed and people lost their jobs, many were having difficulties making ends meet and needed a place to pick up food to feed their families.
We called Mark just to ask him about some history of the food pantry, what the current needs are, and the different services they offer for the local community. Mark is soft spoken and gentle, and you can tell he has a heart rich with kindness for all the work he does for our local community.
He told us that they opened their doors in early 2012 after the housing crisis had effected our local area. With people losing jobs left and right and some people losing their houses, a lot of people had difficulties making ends meet. Not only that, but there is a lot of need for the elderly and disabled in Ozaukee County so the food pantry is able to help anyone who may need it. Serving 120-140 families every month, Mark emphasized that they are so much more than just your traditional food pantry. They offer community meals for anyone 2 times a month at the Parkside United Church of Christ in Saukville on the lower level. Many people not only come for the food, but also for conversation and interaction. Anyone and everyone are welcome to join for their meals. To qualify for the food pantry is simple: you just need proof of residence that you live in Ozaukee county. That's it.
They also offer a mobile food pantry from April to October for people who may have issues with transportation or getting out of their house. It is once a month at Grady Park and they feed approximately 100 families in less than 2 hours. Again, this is a service that everyone is welcome to, as long as you have proof that you reside in Ozaukee County.
They offer a Backpack Friday program with Port Washington State Bank on Fridays for kids in the Port Washington and Saukville school district who are on reduced fee or free lunch. Food goes home with kids for free over the weekends for themselves and their families so even when kids aren't at school, they won't go hungry. In August, they also offer backpacks and school supplies for kids who may need assistance when going back to school called the School Supply Drive. They also offer gym shoes!
I asked Mark what people in Ozaukee County could do to help him, the volunteers, and the services with food pantry. His response was simple: "we need currency because we have the ability to purchase food at a discounted rate from grocery stores and programs like Feeding America. We can also always use food donations of any kind to help out." They are also always looking for volunteers for various jobs associated with the food pantry.
There have been many success stories with the food pantry in our area. A lot of people that once were down on their luck and used the food pantry now volunteer there. Mark said it is amazing to see the impact it can have on people.
The biggest issue was what are they in dire need of right now? A walk-in freezer. They need the extra storage capacity for the food they receive/purchase and the current freezers are getting very old, costly to run, and expensive to fix.
We at Schmit Bros are determined to help our local community. Two percent of all sales in the month of February go to the food pantry to help them with the cost of their new freezer. Monetary and food donations can also be dropped off at the food pantry at 166 W Dekora Street in the lower level of the Parkside United Church of Christ here in Saukville or you can call 262-689-8591. For more information, visit their website at http://saukvillefoodpantry.org/
We support our local community so if you're able to help out to those who need it, we are happy to do the same. Why? Because Good Things Happen When Schmit Happens!