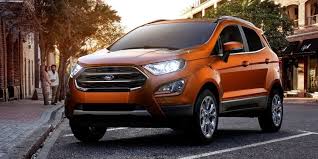 When this subcompact SUV crossover was introduced in 2003 in Brazil, the automotive industry took notice. Officially launching in 2018 in North America, the Ford EcoSport is the first of its kind on to a hot start after a plethora of success in South America.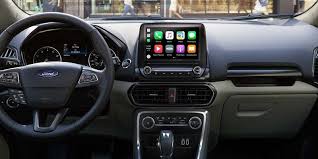 During the 2017 Los Angeles auto show, Ford introduced the idea of the Ford EcoSport in North America. Armed with a re-designed front end and new rear bumper as well as top of the line technology features, the Ford EcoSport made its grand entrance to the North American auto market in early 2018. Laced with the idea that a vehicle can be ECOnomically helpful and SPORTy at the same time, the name EcoSport is literally the blueprint ingrained in this vehicle. Based on the platform of the Ford Fusion, Ford decided to develop a taller vehicle that had more ground clearance, bigger tires, and a spare wheel hanging from the rear hatch. The Ford EcoSport was then born.
During the initial launch in North America, the Ford EcoSport comes in 4 trim levels: The Ford EcoSport S, the Ford EcoSport SE, the Ford EcoSport SES, and the Ford EcoSport Titanium. Additionally, there is a Cold Weather Package available for the Ford EcoSport SE trim level and up which includes heated seats and steering wheel, and heat to the side mirrors.
The Ford EcoSport S is the basic trim level model for this brand that comes with cruise control, remote keyless entry, FordPass Connect, and multiple USB ports.
The Ford EcoSport SE adds keyless ignition to the features of the Ford EcoSport S, as well as options such as roof rails, a powered sunroof, dual climate control, heated seats, hands free entry, and a touch screen with Apple CarPlay/Android Auto integration.
The Ford EcoSport Titanium has all the Ford EcoSport SE options as standard along with leather seats and heated steering wheel…just to name a few.
The Ford EcoSport SES is the top of the line in trim levels that has all-wheel drive as standard and has a sportier suspension and set up.
Different safety features for the Ford EcoSport include anti-lock disc brakes, blind spot monitoring, traction control, and rear cross traffic alert. These are optional on the Ford EcoSport SE but come standard on the Ford EcoSport Titanium and Ford EcoSport SES models.
The Ford EcoSport shows no signs of leaving anytime soon. One of the best sellers in South America, the North American market was ready to take notice.
With over 700 cars in our vehicle network, if we don't have what you're looking for, we are sure to find it. If you need a new vehicle, why wait? Are you sick of constantly fixing your old SUV? Is your car costing more to repair than what it's worth? We can help you! Because Good Things Happen When Schmit Happens!!!