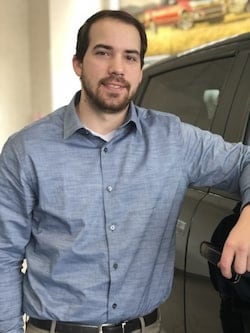 Nick Kopp, one of the new and fresh face on the Schmit Bros Ford Showroom, has always enjoyed the process of buying and looking at cars. With his soft-spoken demeanor and gentle tone, it's no wonder people would want to buy a car from him.
From doing online building of different cars to helping out friends and family while car shopping, Nick thought 'why not make a career out of it?' We are so glad he has!
"I actually really enjoy the 'boring' part of looking at cars. I enjoy learning about the different features that cars can offer and putting together something for you that you're going to enjoy and that's well within your budget."
Born and raised here in Port Washington, Nick has always really like trucks when it comes to cars and has a new appreciation for them now that he works in the industry. "I really like Ford F-150's and when it comes to Ram, the 1500 is a great pick. They're just awesome trucks."
Nick thinks he would be the perfect person to buy a vehicle from because he knows what it's like to be on the other side of the desk when you're buying a vehicle. "It can be stressful. I know exactly what it's like. Schmit Bros really emphasizes having your customers leave happy and to find them what they need and what they are looking for. I have a new appreciation for the customers that walk in the door now that I'm on the other side of the desk."
Nick also believes his perspectives are beneficial when buying a car because he is invested in the interests of his customers as well. "If I have a question, I will ask. I want to make sure I'm getting a person exactly what they are looking for. That's what I'm here for."
While Nick is currently enrolled in school, his intention is to stay put. "I really enjoy being here. I like the family atmosphere and the people I work with. I want to be a teacher at some point, but I'm going to need summers off and will have evening hours. I'm invested at this point. I want to be here for a long time."
If you're looking for a fresh start with a new vehicle, Nick is the perfect person to see. He can also help you find what you are looking for; we have over 700 cars in our dealer network so if you want it, we can find it!
Come say hi to Nick today!